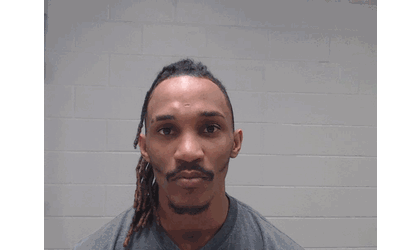 Gary Brown, Jr. (Credit: Atchison Co Sheriff's Office)
(KAIR)--More than a decade in prison. That's the fate for an Atchison man following sentencing in connection with two cases involving convictions for robbery, aggravated battery, and possession of marijuana with intent to distribute.
Gary Brown, Jr. was sentenced Friday in Atchison County District Court to 10-years-11-months of incarceration for the crimes.
According to a release from Atchison County Attorney Sherri Becker, the first case stemmed from "evidence obtained during the execution of a search warrant of [Brown's] home" in March, 2021. Law enforcement, during the raid, "seized a number of items from the house, including: firearms, marijuana scales, baggies and other items of drug paraphernalia," stemming from an Atchison County Sheriff's Office investigation.
While he was free on bond, the then 21-year-old Brown held a man at gunpoint on April 17 of last year, ordering his victim to give him all his money and transfer funds from his online account.
After the man complied with Brown's demands, Brown ordered his victim out of the vehicle where the gunpoint robbery took place. Once he was outside, Brown struck the man in the head with the butt of a gun, took the man's phone and threw it in the grass, where he shot at it.
The investigation into the kidnapping/robbery was conducted by Atchison Police.
According to Becker, Brown, on May 27 of this year, entered a guilty plea to the counts of robbery, aggravated battery, and possession of marijuana with the intent to distribute.