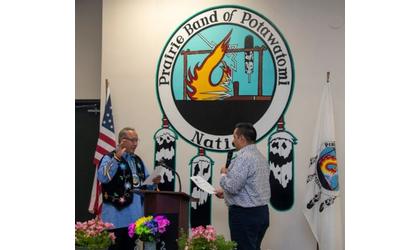 PBPN Tribal Council Chairman Joseph Rupnick is sworn in by Tribal Council Vice Chairman Zach Pahmahmie
(KNZA)--Joseph Rupnick was sworn-in Tuesday as Chairman of the Prairie Band Potawatomi Nation Tribal Council after being re-elected to a second four-year term.
According to a release from the tribe, Rupnick garnered 71 percent of the vote during the recent tribal election over two other candidates.
Also sworn-in Tuesday were the other newly elected tribal officials.
William " Bill" Evans was re-elected to the Tribal Council member #1 position for a second consecutive term.
Rey Kitchkumme, who ran unopposed, was re-elected to the Gaming Commissioner #3 position.
Incumbents Shawna Wabaunsee and Allison Pahmahmie, who both ran unopposed, were re-elected to the Ethics Commission.
Lianna Onnen was elected to fill the remaining term of the vacant Ethics Commission Chairperson position.
A run-off election will be held for the tribal council secretary position on August 20 between Lorrie Melchior and Charissa Wahwasuck-Jessepe since no candidate received a majority vote. Melchior received about 35 percent of the ballots cast for the position, while Wahwasuck-Jessepe received 28 percent. Other candidates receiving votes were Coleen Thomas and Paul Vega.