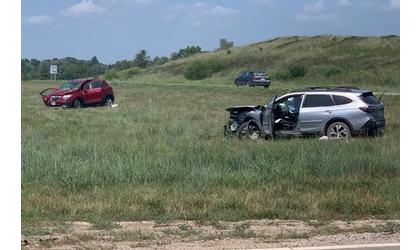 Credit: Jackson Co Sheriff's Office
(KNZA)--A two-vehicle, Monday afternoon crash near Hoyt sent three to the hospital.
According to Jackson County Sheriff Tim Morse, emergency responders were called to the crash scene, located at 110th Road, on U.S. Highway 75, around 2:00 following a report of the crash.
When they arrived, they found that a northbound Buick Enclave collided with a westbound Subaru Outback.
The two occupants of the Buick and the driver of the Subaru were all transported by Jackson County EMS to area hospitals for treatment.
Morse says it appeared all of those transported had non-life-threatening injuries.
Along with the Sheriff's Office and EMS, others responding to the scene were the Kansas Highway Patrol, and the Hoyt, Mayetta, and Prairie Band Potawatomi Nation fire departments.