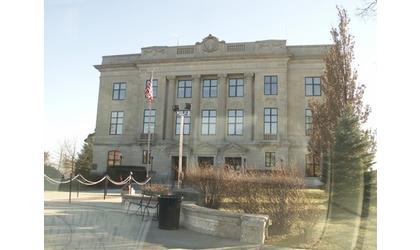 Brown County Courthouse
(KNZA)--The Brown County Commission Monday delayed approval of a resolution that would implement a moratorium on commercial wind energy projects in the county after a commissioner proposed changes be made.
County Attorney Kevin Hill presented a proposed resolution to commissioners at their June 6th meeting, at the request of the commission. It would impose a $1,000 per day fine for any company in violation and be in effect for 18 months, unless extended. The moratorium would allow time for a comprehensive plan to be developed, which is the first step toward implementing countywide zoning.
Commissioner Bill Pollock Monday presented Commissioners with revised resolution, which included a penalty of up to $15,000 per day and not less than $10,000 per day. Pollock's draft also stretched the moratorium to 24-months.
Hill noted the maximum fine allowed is set by state statute.
A motion by Pollock to have Wichita attorney Patrick Hughes, who specializes in wind energy projects, review both drafts died due to a lack of second.
Hill said he would review the changes proposed by Pollock and discuss it with commissioners when they meet Thursday, June 30.
Commissioner Rich Lehmkuhl said that continuing to argue over details was holding up getting anything in place, which could hurt the county in the long term,
Prior to the discussion, Bill Vonderschmidt with the Brown County Blade Watch Group presented a list of 124 names of Brown County residents opposed to wind energy development in the county. That's in addition to 243 names previously submitted.