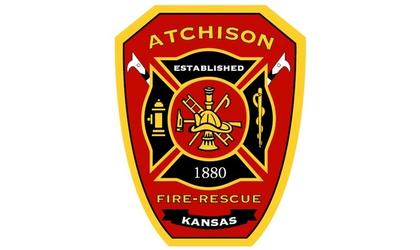 (KAIR)--The fast action of a resident, who kept an Atchison house fire from spreading, is being recognized following the early Monday morning residential fire.
According to a release from Atchison Fire Chief Patrick Weishaar, fire crews were called to 901 Price Boulevard, around 12:15, Monday morning.
When they arrived, smoke and flames were seen coming from a second story window, but all of the five occupants were reported to be out of the home.
The release notes that the family's mother, who apparently alerted the family to the fire, closed the upstairs bedroom door while evacuating, which contained the fire to the second story bedroom.
Fire crews, when they arrived, quickly made their way to the upstairs bedroom where they extinguished the fire.
The family's 4 dogs and 2 cats have been accounted for.
No one was hurt.
The fire remains under the investigation of the Atchison Fire Department.
Kansas Gas, Evergy, and Atchison utility crews all responded.
Also assisting at the scene were the Atchison Police Department, Atchison County EMS, and the Atchison Salvation Army, which Weishaar says provided aid to the displaced residents and refreshments for the emergency crews.