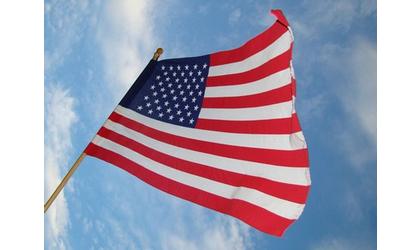 (KLZA)-- Today is June 14, Flag Day in the United States.
June 14, 1777, The Second Continental Congress passed a resolution on how "the flag of the United States should be 13 stripes, alternate red and white stropes with the union stars on a blue field.
The idea for Flag Day was originated by Wisconsin teacher Bernard Cigrand in 1885, that an annual Flag Day, be celebrated across the country every June 14.
President Woodrow Wilson issued a proclamation establishing June 14 as Flag Day in 1916, saying he hoped Americans would show "significant expression to our thoughtful love of America" each year.
The current flag with 50 stars representing each state was designed by 17-year-old Ohio student Bob Heft when Alaska was certain to be admitted to the Union and Heft expected Hawaii would soon achieve statehood as well. He turned in his design of a flag with 50 stars as a class project and also sent the flag to his congressman, who presented it to President Dwight Eisenhower who selected Heft's design after both states joined the union.
On July 4, 1960, President Eisenhower and Heft stood together as the 50-star flag was raised for the first time.
Also worth noting on Flag Day is that the Stars and Stripes should not be used as apparel, bedding or drapery. The Flag Code also bars the flag from being used as a design for carpets and rugs since the flag is to be kept aloft at all times.
Etiquette calls for American flags to be illuminated by sunlight or another light source while on display.