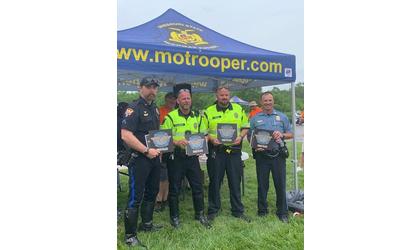 Credit: City of Atchison/Facebook
(KAIR)--Accolades for the Atchison Police Department's two motor officers who took home top division awards following a two day, motorcycle training and competition.
According to a release from the City of Atchison, Motor Officers, Corporal Greg Peterson and Master Patrol Officer Joe Ellerman, participated in the 2022 Police Motorcycle Challenge, a two day event sponsored by Gail's Famous Motorcycles in Grandview Missouri.
The release notes one day was devoted to training, while the second was a full day of competition that included motor officers from throughout the Kansas City area.
Peterson earned First Place in the Novice Division, while Ellerman took First Place in the Team Challenge.
According to the release, the event was led by Sergeant Jay Richards, of the Lenexa Police Department, who has served as lead instructor of police motorcycle training for many years.