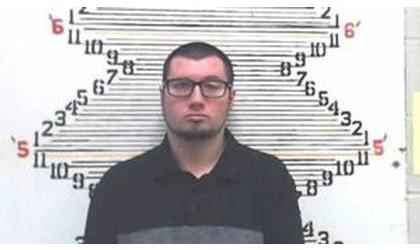 Richard Hargett ( Credit: Brown Co Sheriff's Office)
(KNZA)--A Hiawatha man has been sentenced to nearly three years in prison in a child pornography case.
Brown County Attorney Kevin Hill said 29-year-old Richard Hargett was sentenced Monday in Brown Country Court to 34-months in prison on charges of internet trading in child pornography and sexual exploitation of a child.
Hill said the defense had asked for probation, but he asked for a prison sentence. Monday's hearing included testimony from a psychologist testifying on the defense's behalf. Hill's cross examination included a review of the digital evidence obtained against Hargett and the graphic child pornography he uploaded to the internet.
"The expert acknowledged that he had not reviewed or even seen the evidence in making his evaluation," Hill said.
Hargett pleaded guilty to the charges in early May, canceling a jury trial that had been set in the case.
Hargett was arrested in October of last year following an extensive investigation by the Hiawatha Police Department after a case referral by the Kansas Internet Crimes Against Children (ICAC) Task Force — which Hill and the Police Department are members of.
As part of the investigation, officers executed a search warrant on a residence occupied by Hargett and seized electronics, hard drives, computers, and other data storage devices.
Hargett was remanded to the Brown County Jail following Monday's hearing to await a transfer to prison.