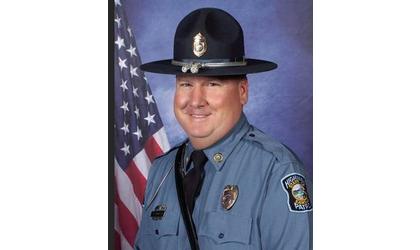 Technical Trooper Don Hughes ( Credit: KHP)
(KAIR)--Technical Trooper, and Atchison County resident, Don Hughes is retiring from the Kansas Highway Patrol, after serving the state and citizens of Kansas for 39 years.
Kansas Highway Patrol Superintendent Colonel Herman T. Jones made the announcement in a recent press release.
Hughes began his career with the Kansas Highway Patrol on March 28, 1984, as a Secretary Officer I for Troop K Guard and was promoted to Capitol Police Patrol Officer on October 18, 1986.
Hughes attended the Kansas Highway Patrol Training Academy and graduated with Class 29 as a Trooper I on March 18, 1995. His initial duty station was Atchison County in Troop B. He was promoted to Trooper II on March 21, 1999. Hughes rank was reallocated in June of 2003 to Master Trooper. In 2010, he accepted a lateral transfer to Technical Trooper in Troop B, where he would serve as a Public Resource Officer (PRO) for the Troop B area.
In his career with the Patrol, Hughes was recognized with a KHP Commander's Commendation, Kansas Department of Transportation People Saving People Award, and a Safe Kids Kansas Service Recognition Award.
One of his favorites times while serving with the patrol was attending the Uniformed Safety Education Officer's Workshop (USEOW), where he networked and learned from other Public Resource Officers from state law enforcement agencies across the nation.