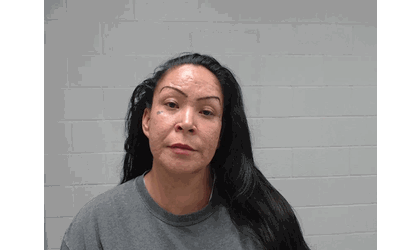 Katie Thomas/Credit: Atchison Co Sheriff's Office
(KAIR)--A weekend Atchison stabbing sent a man to the hospital and his wife to jail.
Arrested in connection with the alleged stabbing of her husband was 36-year-old Katie Thomas. According to a release from Atchison Police Chief Mike Wilson, Thomas was arrested Sunday for aggravated battery and booked into the Atchison County Jail.
Wilson, in the release, explains that around 2:00 Sunday morning, "officers investigated a stabbing that had occurred as a husband and wife were walking in the 500 block of North 7th Street when a disturbance occurred between the two and Katie Thomas stabbed her 59-year-old husband."
Officers, Wilson said, "located the victim and the suspect several blocks from that scene." It was there that Thomas was taken into custody while her husband was transported to a Saint Joseph, Missouri hospital by Atchison County EMS for treatment of his non life-threatening stab wound.