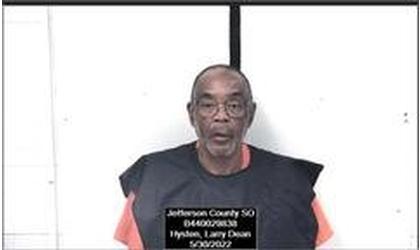 Larry Hysten/Credit: Jefferson Co Jail
(KAIR)--Formal charges are filed against the man accused of shooting another man during a Memorial Day family dispute in rural Oskaloosa.
WIBW-TV reports that 68-year-old Larry Hysten was charged Wednesday by the Jefferson County Attorney's Office with attempted murder in the first degree, two counts of aggravated assault, and possession of a firearm under the influence.
According to the TV station, along with the shooting, two others were also victims of Hysten, leading to the aggravated assault counts.
Court documents cited in the WIBW report states that Hysten was under the influence at the time of the crimes.
Hysten remains in custody in the Jefferson County Jail held on a $500,000 bond.
On Monday, emergency crews, including the Jefferson County Sheriff's Office, the Kansas Department of Wildlife and Parks, and the Oskaloosa Police Department, were called to 9660 86th Street, in rural Oskaloosa for the report of a shooting. When they arrived around 4:20 Monday afternoon, Sheriff Jeff Herrig said they found 54-year-old Winfred Rodriguez had been shot.
He was transported by Jefferson County EMS to Topeka's Stormont Vail for treatment of his injuries.
The TV station reports that Rodriguez, identified as a relative of Hysten, remained hospitalized as of Wednesday.