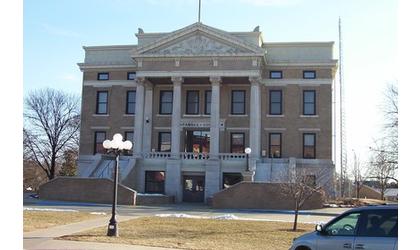 Pawnee County Courthouse
(KLZA)-- The Pawnee County Board of Commissioners reviewed Law Enforcement agreements between the County and the villages of Pawnee County when they met Tuesday.
Following the review Board Chairman Ron Seitz signed the agreements which are for one year with a five-percent increase in costs to the villages.
Commissioners also voted to approve the annual Southeast Nebraska Adult Drug Court Interlocal Agreement between Otoe, Richardson, Nemaha, Johnson and Pawnee counties.
Ashley Griess, Chief Probation Officer for District 1 and Chris Reece, Drug Court Coordinator for the area provided the annual updates on probation and presented the Drug Court agreement.
In other action Commissioners approved placement of a new NexLink tower on the property of Shane Friedly to provide high speed internet to the area.
The annual report from Southeast Nebraska Community Action was presented. Following the presentation the Board voted to proclaim May as Community Action Month.