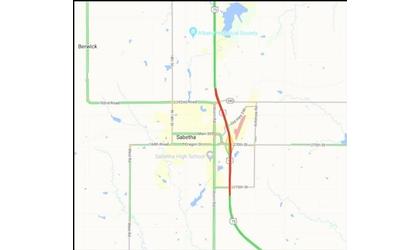 (KNZA)--An intersection improvement and resurfacing project on U.S. 75 near Sabetha is scheduled to begin Tuesday, May 17, weather permitting.
The two-mile project extends from just south of 260th Street to just north of 280th Street/K-246.
According to the Kansas Department of Transportation, work includes constructing left turn lanes at the 260th Street and 280th Street intersections, removal of the existing by-pass lanes, pavement resurfacing and street light installation at 280th Street.
KDOT says there will be a speed reduction and 12-foot width restriction through the work zone. Both directions of U.S. 75 will remain open for a majority of the project, however, intermittent periods of one-way traffic will occur. A pilot car and flaggers will direct traffic, and drivers should plan for delays of up to 15 minutes at those times. Traffic delays should be minimal when both lanes are open.
Work will take place Monday through Friday, and Saturdays as needed, during daylight hours.
Herzog Contracting of St. Joseph, Mo., is the contractor on the $5.4 million project, which is estimated to be complete by late September.