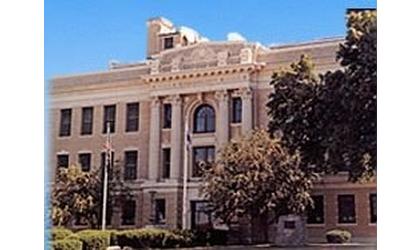 (KLZA)-- Richardson County Commissioners approved a proposal from the Prochaska & Associates architectural firm from Omaha regarding the Courthouse roof request when they met Tuesday.
The Board granted Prochaska & Associates the authorization to obtain services of Elevate Roofing of Denison, Iowa to preform a full roof inspection to include within the bid specifications for the Courthouse roof replacement.
The project is expected to go to bid later this year.
Commissioners also authorized Board Chairman David Sickel to sign a contract with Schawang Masonry to restore the limestone wall around the Courthouse square.
Sheriff Rick Hardesty reported that St. Joseph Plumbing & Heating and Cooling had completed an inspection at the Law Enforcement Center and repaired some items. He also reported that Law Enforcement Center staff members will be taking care of some of the the routine maintenance items that need corrected.
Sheriff Hardesty will be attending a meeting with Humboldt – Table Rock – Steinauer School District representatives to develop a contract for a School Resource Officer.
The HTRS School has notified Sheriff Hardesty they are going to move forward to have a School Resource Officer in place.
Scholl Lawn & Landscape will be doing the mowing at the Courthouse and the Law Enforcement Center this year. The cost will be $100 per mowing at the Courthouse and $150 per mowing at the Law Enforcement Center.