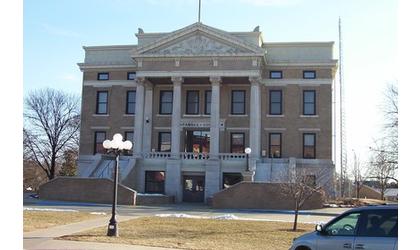 Pawnee County Courthouse
(KLZA)-- Pawnee County Commissioners met with Sheriff Braden Lang during their March 8 meeting.
An executive session was held to discuss the Pawnee and Johnson County Sheriff's Offices. No action was taken following the closed session.
Sheriff Lang and Administrative Assistant Nancy Tilton discussed the sale of a bullet proof. Sheriff Lang said the vests are made to specifically fit the person they are made for. Elliott Boldt will be leaving the Pawnee County Sheriff's Office and wants to purchase his vest. Commissioners will revisit the top during their March 22 meeting.
During the meeting it was learned the Fairview Golf Club has withdrawn their request for a portion of the County's ARPA Funds. County Assessor Vickie Wiers met with the Commissioners requesting ARPA Funds be used for the Pawnee County Historical Society. No action was taken on the request.
Commissioners will also discuss during the March 22 meeting a request from District 1, Chief Probation Officer Ashley Griess to be able to access the Pawnee County Courthouse before courthouse hours, for drug testing probation clients. It would be for random testing two to three days per week for eight to ten people.