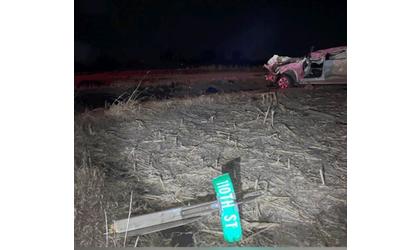 ( Credit: Brown Co Sheriff's Office )
(KNZA)--A Thursday evening single-vehicle Brown County roll-over wreck sent an Everest teenager to the hospital.
Brown County Sheriff John Merchant said the wreck was reported around 9:15 in the vicinity of Raccoon Road near 110th Road.
Merchant said when deputies arrived on the scene Everest first responders were extricating the driver and sole occupant of the vehicle, 18-year-old Grayson Weesner.
He said it appears Weesner's vehicle left the roadway and struck a railroad crossing arm. The wreck caused the vehicle to overturn before coming to rest in a ditch.
Weesner was flown by Lifestar to a Topeka hospital with what is to believed to be serious but non-life threatening injuries.
The wreck remains under investigation by the Brown County Sheriff's Office.