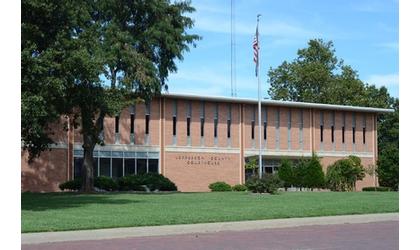 The Jefferson County, KS Courthouse/Credit: Facebook
(KAIR)--Coronavirus cases soar in Jefferson County, as the health department urges residents to take steps to prevent the spread of the Omicron variant.
Jefferson County has had 239 new cases of COVID-19, in the ten-day period leading up to Monday, according to Health Department Administrator Crystal VanHoutan, who provided the County Commission with a coronavirus update during their regular weekly meeting. She explained that those new cases are up from the county's 128 cases during the last ten day period, which brings the total number of current Jefferson County coronavirus cases to 367.
According to VanHoutan, Jefferson County's percent-positivity is 25.8-percent, an increase of 14.96-percent from last week.
The unofficial minutes for Monday's meeting says that VanHoutan explained to the Commission that hospital capacity in the northeast Kansas region is 116 total staffed ICU beds, with 105 of those being used at this time.
She also told the Commission that there have been three cases of the fast-spreading Omicron variant, confirmed by the Kansas Department of Health and Environment, in Jefferson County, but she believes there are more cases that "were just not sequenced by KDHE."
VanHoutan also reported that schools are seeing a number of absences due to the coronavirus.
Ending her report, VanHoutan "strongly recommended that people wear masks and social distance due to the speed of the spread of Omicron virus."
Following the presentation, the Commission, by consensus, agreed "they would strongly recommend masks be worn."
According to KDHE, Jefferson County has had 3,753 coronavirus cases since the start of the pandemic.
53 have died.