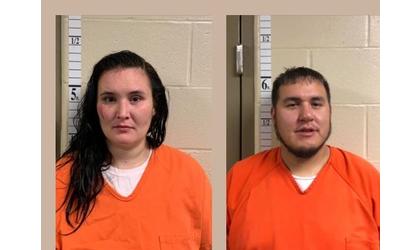 Tauna Frederick and Jeremy Hale ( Credit: Richardson Co Sheriff's Office)
(KNZA)--Two Falls City residents were arrested early Wednesday morning following a reported stabbing.
According to a Facebook post from the Falls City Police Department, Falls City Police, with the assistance of the Richardson County Sheriff's Office responded to an ambulance call of a man being stabbed multiple times around 3:00.
During the joint investigation, 29-year-old Tauna Frederick and 34-year-old Jeremy Hale, were arrested.
The pair were arrested on felony charges of 2nd degree domestic assault and use of a deadly weapon.
In addition, Hale was arrested on felony charges of assault by strangulation or suffocation and terroristic threats.
Both were booked into the Richardson County Jail.
No additional details were available.