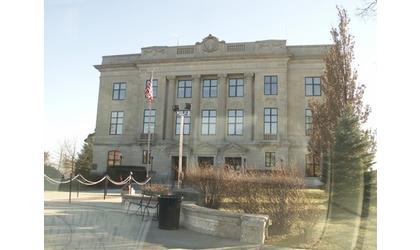 Brown County Courthouse
(KNZA)--The Brown County Commission on Monday further discussed the need for a security guard at the main entrance of the Courthouse.
The discussion came after county resident Brian Hoskins addressed the commission with his concerns about the security measures in place at the courthouse, saying he feels they violate his second amendment rights.
Currently, those entering the courthouse must pass through a walk-through metal detector. A security guard is stationed at the front entrance. Firearms and other weapons are prohibited.
Hoskins said he isn't a violent person, but does carry several pocket knives. He said the Brown County Courthouse is the only one in the region with restrictions.
In addition, Hoskins said he didn't feel the temperature check in place at the courthouse was necessary.
Commissioner Bill Pollock has voiced his opposition to the restrictions. A motion by Pollock at the September 30 meeting to get rid the temperature check and allow people to bear arms within the courthouse died due to the lack of second.
Commission Chairman Rich Lehmkuhl said he didn't agree with allowing everyone coming into the courthouse to be able to carry arms.
Commissioner Lamar Shoemaker said he felt that by removing courthouse security then some people who were unable to defend themselves could be exposed.
The security measures have been in place since January 2018.