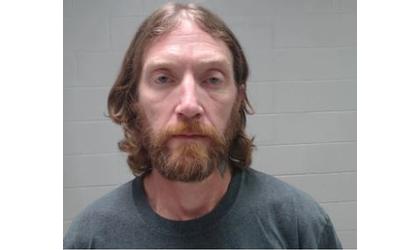 Shane Lawrence ( Credit: Atchison Co Sheriff's Office)
(KAIR)--An Atchison man was arrested on drug and firearm charges following the execution of a search warrant on an Atchison residence Tuesday morning.
According to a release from Atchison County Sheriff Jack Laurie, the Sheriff's Office served the search warrant at 200 East Riley Street following a month long investigation.
During the search, Laurie said deputies discovered a distribution amount of methamphetamine, distribution amount of hallucinogenic drugs (believed to be Psilocybin Mushrooms), marijuana, drug paraphernalia, and firearms.
At the about the same time, Laurie said deputies arrested 44-year-old Shane Lawrence at the Atchison County Courthouse following a court hearing on an unrelated matter.
Lawrence was arrested for possession with intent to distribute methamphetamine within 1000 feet of a school, possession with intent to distribute a hallucinogenic drug within 1000 feet of a school, possession of drug paraphernalia with intent to distribute, criminal use of a firearm, possession of marijuana, and no drug tax stamp.
Lawrence was booked into the Atchison County Jail.