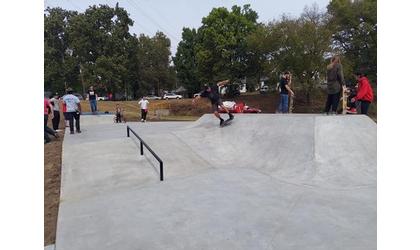 New Atchison skatepark opens ( Credit: Facebook)
(KAIR)--A goal since 2018 is realized, as Atchison's new skate park opens for use, following a grand opening celebration held Saturday at the Reisner Park location.
A cooperative effort between the City of Atchison and the Skate High With Hope-The Joshua Kinsman Foundation, the park serves as a living reminder of Joshua Kinsman, a 17-year-old Atchison skateboarder who died in 2018.
His mother, Pamela Cline, took the idea of the skatepark to the City Commission later that year, leading to Saturday's opening of the first phase of the planned 3-phase project.
Once approval to proceed was granted, Cline, and her significant other, Jeremy Watkins, worked toward the goal, setting up the foundation, holding fundraisers, and seeking all avenues to generate the needed revenue for the $200,000 project.
The project is funded by a $5,000 grant from The Skatepark Project, formerly known as The Tony Hawk Foundation, a $75,000 City of Atchison contribution, and private donations raised by Skate High with Hope-The Joshua Kinsman Foundation.
The opening of the skatepark instills in Cline fond memories of her son's skateboarding passion.
As for the completion of the first phase of the project, Watkins says he believes it will serve local skateboarders well.
The North Carolina-based Artisan Skateparks served as contractor for the more than 4,000 square foot skatepark.