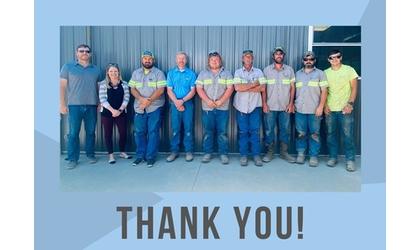 Credit: City of Atchison/Facebook
(KAIR)--The City of Atchison calls it "a very special Employee Spotlight," as the City recognizes it's Water D&C crew.
Specifically named in the City's social media post are Robert Young, Bill Smith, Ryan Hanshaw, Mark Lone, Jason Ellis, Nicholas Tull, and Ethan Piper.
The crew members, called "hardworking employees" by the City, are being recognized for the repair work they were involved with following last weekend's broken water main at 5th and Kansas Avenue.
According to the City, they "worked for nearly 21 hours to fix the broken cast iron pipe, restore water service to local businesses and residents, and backfill the worksite" with the broken pipe identified as having been installed in 1887.
The crew members were commended for their efforts with the presentation of $50 gift cards to a local restaurant, by Public Works and Utilities Manager Clinton McNemee and City Manager Becky Berger.