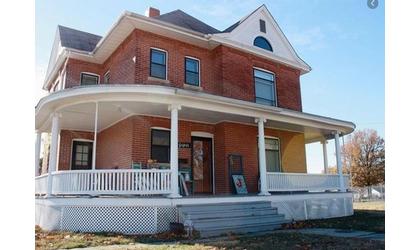 Hawthorne House ( Credit: USD 415)
(KNZA)--The Hiawatha School District received no bids for the Hawthorne House.
That's what Superintendent Lonnie Moser informed the USD 415 Board of Education during their regular meeting Monday evening.
The Board voted last month to put the historic house up for sale through sealed bids, with the stipulation that the house must be moved from its current location by September 1 of next year. Bids were due by Monday.
It was reported several people had looked at the property during a recent open house. However, Moser said the feasibility and expense of moving the house seemed to cool one potential bidder, and no other interest was shown.
It was the consensus of the Board to have Moser contact a local real estate agent to investigate the possiblity of listing the property.
In other business, board officers were elected for the 2021-22 year. Tom Simmer was re-elected as board president and Ian Schuetz as vice-president.
As part of the consent agenda, the Board accepted the resignations of Sarah Windmeyer as board clerk and director of finance, Sherrie Hoffman as high school Spanish teacher, Leighanna Stewart as 3rd grade teacher and Mikaela Lehew as 3rd grade teacher.
Following an executive session, the Board approved several new hires. They include Jared Estrada as middle school and high school band teacher, Sadie Miller as middle school math interventionist, Christina Simpson as district nurse, Cassandra Bangert as social worker and Eric Edie as tech systems analyst.