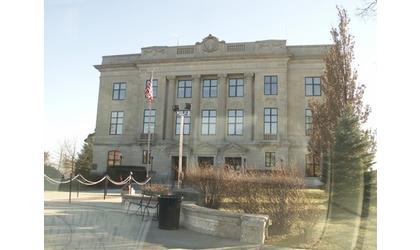 Brown County Courthouse
(KNZA)--The Brown County Commission on Monday approved the purchase of a new backhoe for the road and bridge department.
The Case 590 Super N backhoe will be purchase from Victor L. Phillips, of Topeka, for $122,995, contingent upon a suitable lease-purchase agreement.
$70,000 will come from the special machinery fund for the down payment.
Bids were opened last week from four vendors.
In other business, the commission approved a resolution re-appointing Steve Markham as County Appraiser for a 4-year term at a salary of $65,000 a year.
Markham has held the position since March 2019.
The Commission approved submitting applications to the Hiawatha Land Bank for the purchase of two lots located behind the Sheriff's Office at 712 and 714 Kickapoo Street in Hiawatha.
Glen Obbards, President of the Horton Chamber of Commerce, met with the Commission to request the county help fund the drumline at this year's Brown County Fair parade. The Commission voted to provide $750 in funding.
The Fair will be held July 12-16 in Horton, with the parade the evening of July 13 at 6:00.
And Ryan Meininger, chairman of the Hiawatha Maple Leaf Festival Committee, met with the Commission to request use of the Courthouse Square and the Courthouse restrooms for this year's festival, which is to take place Saturday, September 25. The commission gave their approval.