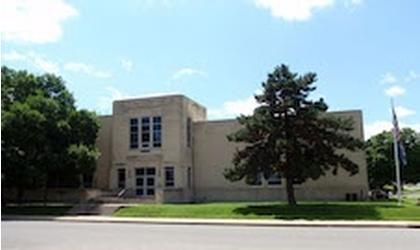 (KAIR)--Ownership of a longstanding Atchison school building will soon transfer to a local development company, meaning possible new downtown area apartments, following action of Atchison's USD 409 Board of Education Monday evening.
The action, in the way of a unanimous vote to sell the Central School Building, came during the Board's regular monthly meeting.
The decision followed information presented to the school board by School District Attorney Larry Mears, who explained that two bids were received during the process leading up to the board's actual sale of the property.
Following Mears' presentation, and prior to the board's vote, discussion between board members reflected a consensus of agreement regarding Pomeroy Development, LLC's submitted plan to convert the former Central School building into apartments.
Although specific details of the plan were not cited, board members said the plan was clear, and met the board's desire to see the building, located at 215 North 8th Street, remain utilized in the community.
The Atchison-based development company submitted the high bid of $40,000, which was accepted through the board's unanimous vote.
Mears said details still need to be ironed out, with the motion approved by the board reflecting those future negotiations.
The school board in May, following past public discussions and a public hearing, issued a notice of invitation for offers to purchase the school building property.
The school served approximately 45 to 50 students in grades K through 12, with those students to be relocated next school year to the Atchison Middle School's Roosevelt Building.