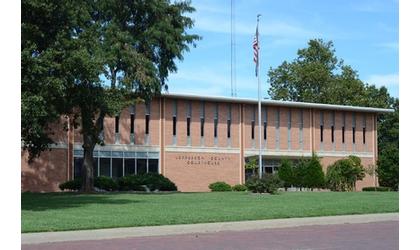 The Jefferson County, KS Courthouse/Credit: Facebook
(KAIR)--Masks remain mandatory in Jefferson County, following a vote of the Jefferson County Commission Monday.
According to a release from the County, the decision to extend the mandatory wearing of face masks in public, due to COVID-19, was decided on a 2 to 1 vote.
The release says the decision was made as Jefferson County continues to see a decreasing trend in virus case for the week of February 21, as reported by the County Health Department.
The Percentage Positive for the week of February 14 and the week of February 21 is 3.18% as compared to the previous reporting period which was 3.97%.
In the past ten days there have been a total of 14 individuals who have tested positive for COVID-19 in Jefferson County.
The County has had 1,618 total cases of COVID-19 since the start of the pandemic, including 28 related deaths.
The extension of the mask mandate will remain in effect until the end of March 15, and will be re-evaluated by the Commission at that time.