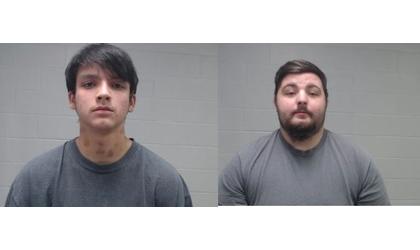 Cole Acevedo and Bladen Bellar (Credit: Atchison Co Sheriff's Office)
(KAIR)--Three Leavenworth-area teens are facing charges in Atchison County, arrested Thursday in connection with Atchison vehicle break-ins.
According to a report from Atchison Police Chief Mike Wilson, 18-year-old Cole Acevedo, of Lansing, was taken into custody for vehicle burglary, theft, and contributing to a child's misconduct.
18-year-old Bladen Bellar, of Leavenworth, was arrested on the same charges as Acevedo, but is additionally accused of marijuana and drug paraphernalia possession.
A 17-year-old boy was also arrested for vehicle burglary and theft.
Acevedo and Bellar were booked into the Atchison County Jail following their arrests, while the unnamed younger teen was released to a parent.
According to Wilson, the arrests came after Atchison Police, around 1:00 Thursday morning, were called to the area of 2nd and Unity to investigate a report that persons were attempting to enter parked vehicles.
A suspect vehicle was spotted by police near 3rd and Mound Streets, with a driver sitting inside the truck when two others ran to the vehicle, which was stopped by police as it attempted to leave the area.
The investigation that followed determined that the truck's three occupants were responsible for the burglary of two vehicles, one in the 100 block of East Mound, and another in the 100 block of Su Terra.
Items stolen from the vehicles have been recovered, including a purse, keys, and new auto parts.
Investigators say attempts to enter other vehicles were also made, including one that triggered an alarm that called police to the area of the crimes.