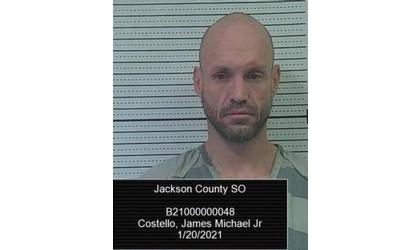 Michael Costello, Jr.(Credit: Jackson Co Sheriff's Office)
(KAIR)--A Valley Falls man is accused of leading Jackson County authorities on a pursuit while being in possession of drugs and a firearm.
Arrested was 40-year-old Michael Costello, Jr., who faces charges for possession of methamphetamine, possession of drug paraphernalia, criminal carrying a weapon, and eluding a law enforcement office. He was booked into the Jackson County Jail after he was taken into custody.
Jail records indicate the pursuit, and arrest, happened Wednesday.
According to a release from Jackson County Sheriff Tim Morse, a deputy, in the Holton Walmart parking lot, spotted a man "that appeared to be behaving in a suspicious manner," and followed the man, who left the parking lot headed south of Holton, on U.S. Highway 75.
It's alleged that Costello was driving at a high rate of speed, with the deputy alleging that traffic infractions were committed as the car was eastbound on 162nd Road.
A short pursuit followed, but ended in the city of Mayetta, with Costello taken into custody.
The Mayetta Police Department provided assistance to the Sheriff's Office during the incident.