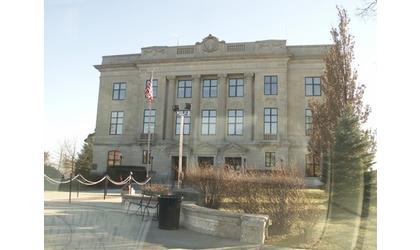 Brown County Courthouse
(KNZA)--Hand sanitizer stations are still available for Brown County businesses.
Brown County Emergency Management Director Don Pounds informed the Brown County Commission Tuesday that only 16 businesses had applied by Monday's deadline for the 100 hand sanitizer stations purchased with leftover SPARK funding, with an additional application received Tuesday morning.
The dispensers are available for free to any business in the county.
Pounds said he expected the stands for the units to arrive by next Monday and planned to get them distributed next week.
He said he will accept applications until they are all gone.
Pounds also informed commissioners that he has been working with the Brown County Health Department to set up sites for Phase 2 COVID-19 vaccinations, starting next month.
Unfortunately, Kristina Romine with Northeast Kansas Multi-County Health, said Friday because the allocation from the state is going to come in smaller batches at first it will not be possible to set up the drive through clinics.
Romine said the Health Department is working with HCH to offer clinics at the Fisher Center by appointment based on the number of doses that they receive. Those residents in Phase 2 can call the hospitals dedicated line 785-742-6462 to be placed on the list for the vaccine..