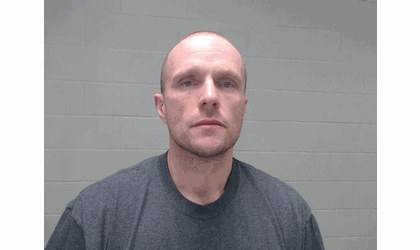 Michael McGuire (Credit: Atchison Co Sheriff's Office)
(KAIR)--An arrest has been made in connection with a December break-in at an Atchison pharmacy that resulted in the theft of what Atchison Police call "a quantity of controlled substances."
Atchison Police Chief Mike Wilson, in a release issued Monday evening, said 39-year-old Michael McGuire, of Atchison, was taken into custody Monday afternoon at a residence in the 1200 block of South 7th Street. McGuire was arrested on an Atchison County District Court warrant charging him with burglary, theft, and criminal damage to property. The charges stem from an early morning December 4 burglary at Atchison's Kex RX Pharmacy, located at 807 Main Street. According to Police, who responded to the reported burglary around 1:30 that December morning, found that forced entry had been made through a glass door, with the suspect having fled the scene before police arrived.
The investigation that followed the break-in led to McGuire, and the resulting charges.
Following his arrest, McGuire was booked into the Atchison County Jail. Bond is set at $20,000.
According to Wilson, McGuire was also arrested on a District Court warrant charging him with a theft that occurred at Hundley Liquor, located at 119 South 9th Street, on December 2.
McGuire faces a charge of misdemeanor theft for that crime.
His bond for the liquor store burglary is set at $2,500.