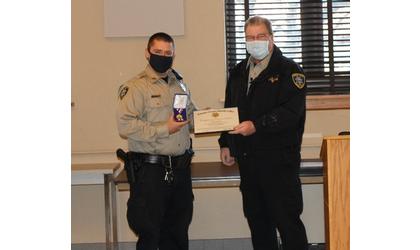 ( KNZA)--A Jackson County Sheriff's Deputy receives recognition for placing his life in jeopardy to save a woman from gunfire during a Holton domestic dispute.
According to a release from Jackson County Sheriff Tim Morse, Sergeant Travis Spiker was called to assist Holton police on December 3, 2017, during the domestic dispute at 802 Ohio Street.
An armed woman, involved in the altercation, was taken into custody for questioning and placed in Spiker's vehicle. Gunfire continued to come from the home, with officers and Spiker under fire.
The release says "Spiker's vehicle was riddled with gunfire," and he was pinned behind it.
Knowing the woman inside the vehicle was in danger, Spiker was "was able to enter his vehicle from the passenger door and crawled over a variety of law enforcement equipment...to get to his driver' seat." As he did so, Spiker placed himself in direct view of the armed assailant, who continued to fire a weapon from inside the home. His methods were successful, with Spiker able to remove the woman to safety,
Calling the award "a long time coming," Morse, in the release, called Spiker "a true hero" and "a person of courage and bravery."