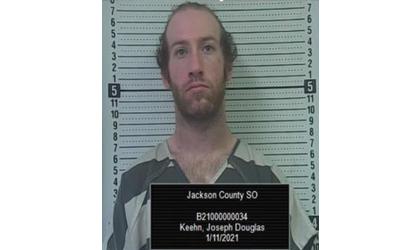 ( Credit: Jackson Co Sheriff's Office)
( KNZA)--A Havensville man was arrested Monday afternoon following a vehicle pursuit in Jackson County.
Jackson County Sheriff Tim Morse said a sheriff's deputy attempted to stop a 2007 Nissan Infiniti for a traffic infraction near 222nd and K. Roads in western Jackson County shortly after 3:00.
The driver allegedly fled west then south. The deputy then lost sight of the vehicle.
A deputy in an unmarked vehicle located the vehicle once again near 190th and H. Roads. The deputy continued to follow the vehicle.
Morse said deputies were able to get the vehicle stopped at 198th and E. Roads shortly before 3:30.
The driver, 26-year-old Joseph Keehn, was arrested for fleeing and eluding a law enforcement officer, distribution of marijuana, no drug tax stamp and felony interference.
Keehn is being held in the Jackson County Jail.