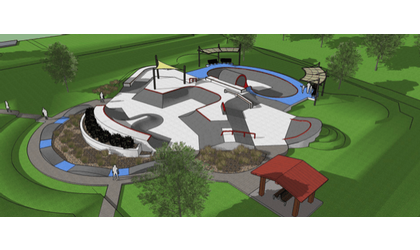 Aerial view of a concept design showing Phase One of Atchison's Reisner Park Skatepark Project (Credit: City of Atchison)
(KAIR)--Construction of Atchison's new skatepark is set to begin this spring.
That word comes in a social media post from the City of Atchison, with Friday's release saying completion of the skatepark, to be constructed in Atchison's Reisner Park, is expected by the end of summer 2021.
The $200,000 project will be built in the area where tennis courts were once located at the park.
The Reisner Park Skatepark Project is a cooperative effort between the Skate High With Hope the Joshua Kinsman Foundation and the City of Atchison.
The foundation was named for late Atchison resident, and skateboarding enthusiast, Joshua Kinsman, who died in January, 2018 at the age of 17.
Kinsman's mother, Pamela Cline presented her vision of seeing the park built in Kinsman's honor to the City Commission in April, 2018.
According to the City's release, the project has benefited from a $120,000 donation from the Foundation, $75,000 from the City of Atchison, and $5,000 from the Skatepark Project, formerly known as the Tony Hawk Foundation.
The City Commission authorized a design-build contract in August, 2020, with Artisan Skateparks to construct the project.
The skatepark is being constructed to allow future improvements and add-ons.