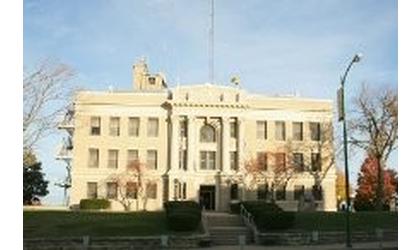 Richardson County Courthouse
(KLZA)-- Richardson County Commissioners have requested Emergency Management Agency Director Brian Kirkendall to to seek estimates from licensed contractors to close and remove an under ground fuel storage tank at the courthouse in Falls City.
In other action during their October 13th meeting the Board discussed hiring of staff for the vacant positions in the Road and Bridge Department.
Shannon Engberg, Vice-Chairman of the Iowa Tribe of Kansas and Nebraska and a representative of the Land Protection of The Nature Conservancy presented documents to the Board for the Rulo Bluff's Conservation Easement, reserved by the Nature Conservancy, a District Of Columbia based non-profit corporation, to turn the easement for the property over to the tribe. The proposal was approved by the Board.
Commissioners also voted to enter into an agreement with Johnson, Pawnee and Nemaha Counties to implement a 4-County Juvenile Services Plan for a period of July 1, 2020 through June 30, 2021.