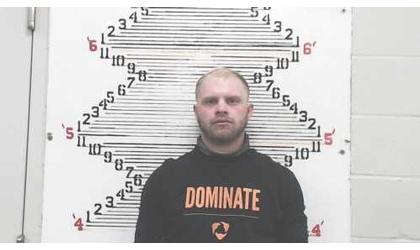 Kyle White/Credit: Brown Co Sheriff's Office
(KNZA)--A 6-person jury trial has been set for a Hiawatha man charged in connection with a fatal Brown County wreck last November that claimed the life of a Hiawatha teenager.
Kyle White pleaded not guilty Wednesday in Brown County District Court to a charge of unlawfully hosting minors and eights counts of furnishing alcohol to a minor. Both charges are misdemeanors.
A jury trial was set for November 12.
White was arrested in December following an investigation by the Brown County Sheriff's Department.
The investigation began immediately after the fatal wreck late November 17 at the intersection of Horned Owl Road and U.S. 36 Highway, west of Hiawatha.
Killed in the wreck was 16-year-old Ian Miller. Four other Hiawatha teens were injured in the crash.
A juvenile complaint was filed in May charging the driver, Andrew Kreek, with five counts. Kreek, who was 17-years-old at the time of the wreck, was charged with involuntary manslaughter while driving under the influence, three counts of aggravated battery and speeding.
Kreek is scheduled to appear in court July 21 for a status hearing.