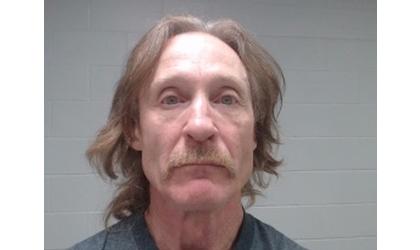 Robert Gilliland (Credit: Atchison Co Sheriff's office)
(KAIR)--The execution of a search warrant at an Atchison address leads to one arrest.
According to a news release from Atchison County Sheriff Jack Laurie, the raid was conducted July 2 in the 600 block of Q Street, where 54-year-old Robert Gilliland was taken into custody.
According to the release, it's alleged that several firearms, methamphetamine, explosives, and drug paraphernalia were located during the search.
Gilliand faces charges for six counts of felon in possession of a firearm, possession of methamphetamine, criminal use of explosives, and possession of drug paraphernalia.
Following his arrest, Gilliland was booked into the Atchison County Jail.
He has since been released on a $25,000 surety bond.