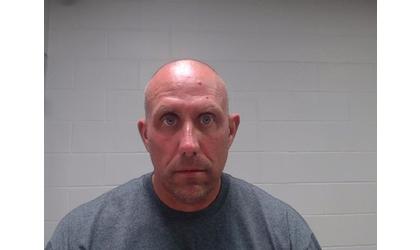 Curt Vandevelde (Credit: Atchison Co Sheriff's Office)
(KAIR)--An Atchison County burglary, resulting in thousands of dollars in losses, is under investigation.
According to a release from Atchison County Sheriff Jack Laurie, the crime was reported Friday, with investigators determining that entry was made into the residence, located at 3840 Osborne Road, through a locked basement door.
Items stolen include a small safe, a flat screen TV, a laptop, a handgun, coins, and a tablet.
The missing items are valued at more than $4,000.
The investigation is continuing.
In a separate investigation, Atchison County authorities have made an arrest into what Laurie says is believed to be a series of connected burglaries that occurred Monday.
Shortly after 11:00 Monday morning, deputies were called to 4429 Sherman Road following the report of a burglary in progress.
They found that a window had been forced open, along with tools used to make entry, but the suspect was gone.
That evening, around 6:45, deputies were called to 3502 Sheridan Road where the homeowner found a man sleeping in his garage. Telling deputies the suspect had fled west, into trees, deputies used the office's K-9 Unit to track the suspect into the woods.
Located was 47-year-old Saint Mary's, Kansas resident Curt Vandevelde, who was taken into custody.
After he was apprehended, the Sheriff's Office received a report shortly before 9:00 Monday night that a burglary had previously occurred at 20452 244th Road.
According to Laurie, the three burglaries are believed to be connected, with all stolen items recovered.
Following his arrest on charges related to the burglaries, Vandevelde was booked into the Atchison County Jail.