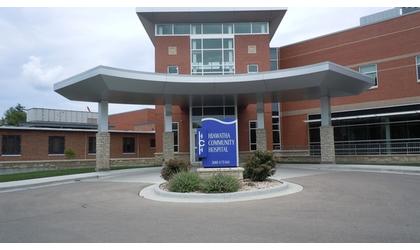 Hiawatha Community Hospital
Editor's note--the following press release was submitted April 7 by Hiawatha Community Hospital Administrator John Broberg
Hiawatha Community Hospital is continuing to operate under the Incident Command that was initiated with the National Emergency for COVID-19. Our goal is to provide weekly updates to the community to assure the community we are here caring for you.
We know that Kansas had the first positive COVID 19 patient in early March and as of April 6, there are 845 cases in Kansas in 53 counties. The information is updated each day around 11:00. Please visit the KDHE COVID-19 website.
Call Before You Go – Call Before You Go initiative was launched on March 11th, encouraging patients to call the hospital before coming to the hospital, clinic, or emergency department. We started a COVID Patient Line so all patients calling in with COVID symptoms like fever, cough and shortness of breath are screened by a nurse who will collect information and review symptoms and travel history. As of April 6th, we have had 194 callers screening by the nurses and providers answering the phones. We have done 28 drive by swabs. Several have tested positive for flu or other viruses. Between the other swabs ordered in the hospital and the qualifying tests from drive by, HCH has sent 32 swabs for COVID testing. 25 have come back negative and 7 are pending results. Some results are taking over 10 days. We are using a different reference lab which has improved the turnaround of results.
The leadership team and employees have been demonstrating amazing teamwork. We have converted three offices and a storage room back into patient rooms. Staff came together to move offices, paint rooms, and are working to restore the plumbing as these rooms have not been used for quite some time. We have rented negative air flow machines for five rooms for when we have COVID patients in the hospital. The west wing of the hospital including the solarium will be used as our COVID unit. We do not have any patients in the COVID Unit at this time.
While the hospital improved its operations over the last year, we continue to monitor our financials very closely. With the cancellation of the elective procedures and lower volumes across the organization, we applied for the paycheck prevention program as well as accelerated Medicare payment to help our cash flow. The hospital has been able to refinance our bond and will be spending some bond fund dollars for roofing, chiller and boiler infrastructure.
We are continuing to follow CDC's recommendation of cancelling elective procedures. This is a hardship for patients, the hospital staff and providers but it allows us to preserve personal protective equipment which is in short supply nationally. We are monitoring our personal protective equipment stock closely. Most of the supplies we are ordering are on back order. The cost of hospital grade masks has increased by 500%. We appreciate several people who have already dropped off homemade masks, and continue to take donations if you would like to make masks for staff. We will be using them for non-patient care providers while at work, as well as assure all employees have a homemade mask to wear while out in public.
We continue to promote social distancing. It is great to see many of the local restaurants and Walmart putting in protective measures. The CDC shared it is critical to emphasize that maintaining 6-feet social distancing remains important to slowing the spread of the virus. CDC is additionally advising the use of simple cloth face coverings to slow the spread of the virus and help people who may have the virus and do not know it from transmitting it to others.
Cloth face coverings fashioned from household items or made at home from common materials at low cost can be used as an additional, voluntary public health measure. https://www.cdc.gov/coronavirus/2019-ncov/prevent-getting-sick/cloth-face-cover.html
We encourage all patients to make your payments on line or mail the payments to the hospital rather than coming into the hospital to make your payments. If you come into the hospital, please wear a homemade or purchased mask, you will need to go through screening prior to giving the payment to the registration staff. If you have questions about your bill, please feel free to call 785-742-2131.
Thank you for all of the community support as we continue to navigate these challenging times. …..
COVID Patient Line-- 194 Calls
COVID Test-- 32 Sent
COVID Results:
Negative 25
Positive 0
Pending 7
COVID Patients In Hospital including Persons Under Investigation: 0