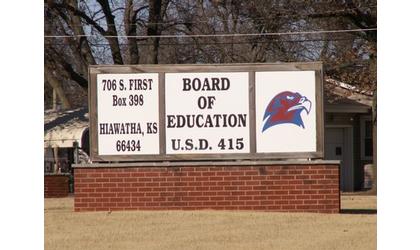 (KNZA)--During a special "virtual" meeting Thursday morning, the Hiawatha School Board approved the district's continuous learning plan and application to waive the mandated attendance requirements for this school year.
The documents will now be submitted to the Kansas State Department of Education for approval.
Governor Laura Kelly last month ordered all K-12 schools to close for the remainder of the semester to mitigate the spread of the coronavirus.
Schools districts were directed to develop a continuous learning plan for the remainder of the school year, which is to be submitted by April 8.
Superintendent Lonnie Moser said the district is asking to waive 293 hours of the mandated requirement of 1,116 hours of school. He said the continuous learning plan is one of the requirements to receive the waiver.
Board President Ian Schuetz expressed graditude to the faculty and administrators who developed the plan.
On Monday, the Hiawatha School District began its instructional plan that includes a combination of online learning and packets of printed material.
In other business, the Board approved the hiring of three new teachers for next school year. They include Leighanna Stewart as a 3rd grade teacher, Kylah Bateman as Middle/High School band teacher and Brady Mulligan as 6th grade history teacher.
The Board also accepted the resignations of band teacher Sara Woods and Trace Woods as music and Title 1 para along with tennis coach.
The meeting was held on-line due to Governor Kelly's stay-at-home order.