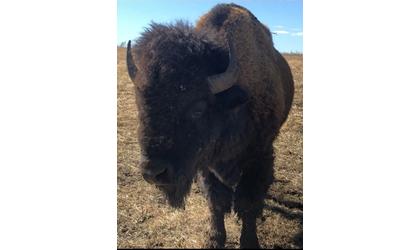 Submitted photo
(KAIR)--The Kickapoo Tribe in Kansas continues to feel the effects of the coronavirus pandemic, making maneuvers to help reduce the potential spread.
Those measures include the extension of the closure of the Tribe's Golden Eagle Casino.
According to a news release from Tribal Chairman Lester Randall, the decision has been reached to keep the casino closed until May 1.
Despite the effects of the pandemic, the Tribe is taking time to celebrate the arrival of new guests to the Kickapoo Reservation, located west of Horton.
According to Randall, the Tribe on Monday welcomed six buffalo, including five pregnant heifers and one bull. Five calves are expected in late May or early June, and the Tribe plans to expand the herd in the future.
Randall, in a release, said that many Tribal members "believe buffalo have spiritual and healing powers," saying they are "hopeful the addition of these buffalo will help [the Tribe] bring back their cultural importance."
The release notes that amid the coronavirus pandemic, the Tribe "is hopeful the buffalo can serve as a bit of optimism for a community dealing with stressful and uncertain times."