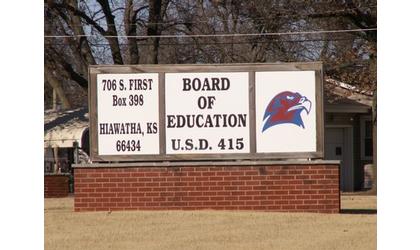 (KNZA)--A federal grant will be sought to add a school resource officer at Hiawatha schools.
The USD 415 Board of Education Monday evening gave Hiawatha Police Chief John Defore approval to seek a $125,000 grant through the U.S. Department of Justice.
If awarded, the grant will pay 75% of the officer's salary for the first 3 years. In the fourth year, the city and the district will be responsible for the full salary. Keeping an officer for a fourth year is a requirement of the grant.
The officer will be an employee of the police department and the district will reimburse the city 70% of the officer's salary while the city is responsible for the other 30%.
The total estimated cost over the 4-year period to the school district would be around $71,000 and the city's cost would be around $30,000.
Defore said the grant application is due March 11 and grant awards will be announced in October.
Superintendent Lonnie Moser says he previously worked in a school district with a school resource officer and feels they are beneficial.
The district last had a school resource officer in the 1990's.