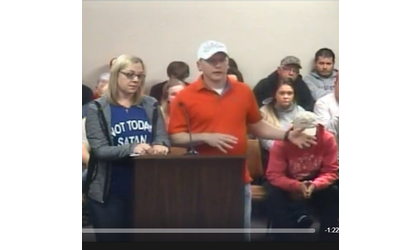 Pam Cline (left) and Jeremy Watkins (right) present plans for a skateboard park to the Atchison City Commission April 16, 2018/Credit: Facebook
(KAIR)--Efforts are continuing to realize the goal of bringing a skate board park to the city of Atchison.
That's conducted through the work of the "Skate High With Hope The Joshua Kinsman Foundation," named for late Atchison resident, and skateboarding enthusiast, Joshua Kinsman, who died in January, 2018 at the age of 17.
Kinsman's mother, Pamela Cline, appeared before the Atchison City Commission during the Commission's February 3 meeting. She provided an update on the fundraising efforts of the foundation, which has held a number of events to generate the funds needed. "Right now, the Skate High With Hope Foundation has raised $116,345, and then if you add in the City's donation to that of $75,000, we are at $191,345," Cline told the Commission. "We applied for the Tony Hawk Grant with [Atchison Publie Works Director Clinton McNemee's] help on the 27th, and that's for $25,000. So pending on that grant, if we get it or not, we will be anywhere between $58,000 and $33,000 from our phase one project."
McNemee says the price tag for the skate park is $250,000.
The plan is to see the future construction take place on green-space located at Atchison's Reisner Park. A community forum held in the park in September, 2018, drew no opposition.
Cline, during her presentation, told the Commission the foundation is working on in-kind donations which will bring the goal of skate park construction all the closer.