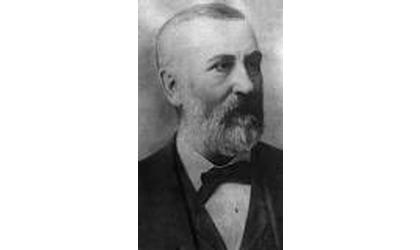 Edmund Morrill
(KNZA)--The Brown County Historicial Society is seeking the installation of signs designating Hiawatha as the hometown Edmund Morrill, who served as the 13th governor of Kansas.
At the request of Historical Society Director Lynn Allen, the Hiawatha City Commission Tuesday evening approved a resolution requesting the Kansas Department of Transportation install the signs as allowed by Governors of Kansas Hometown Heritage Act.
Lane said the Historical Society is collaborating with several organizations in the community to have the signs installed along U.S. 36 Highway.
Lane said they need to raise about $3,000 to achieve the goal and pay KDOT to install the signs.
Morrill served as governor from 1895 to 1897. Prior to serving as governor, he served in the U.S. House of Representatives for four two-year terms.
Morrill, who died in March, 1909, is buried in Hiawatha's Mount Hope Cemetery.
In other business, the Commission approved a resolution of support for a federal legal holiday for Native American Indians.
Merle Whiteside, of Roseville, Illinois is spearheading a petition drive to get the U.S. Government to grant the legal holiday and requested the city's support.