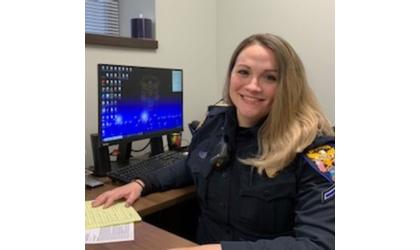 Whitney Wagner becomes the first female detective for the Atchison Police Department. (Credit: City of Atchison)
(KAIR)--A first for the City of Atchison.
That distinction comes as Whitney Wagner is promoted to the role of detective with the Atchison Police Department.
According to a release from the City, Wagner becomes the first woman to hold that title with the department.
In the release, Atchison Police Chief Mike Wilson said Wagner's "skill as an investigator has been evident during her years in patrol," adding that her role as detective will magnify the success of the department's criminal investigations.
Wagner has worked for the police department for four years.
Wagner, one of three women on the police force, was the first of the trio to be hired.
She has a criminal justice degree from Missouri Western State University, where she worked in communications with campus security. Upon graduation, Wagner worked as a dispatcher for the St. Joseph Police Department for nearly seven years before securing her position with the Atchison Police Department.
Wagner is a native of Jefferson County.