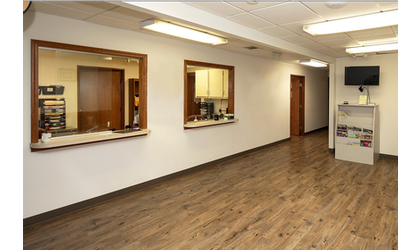 The interior of the Horton Community Hospital Clinic (Photo credit: Atchison Hospital)
(KAIR)--The Atchison Hospital is granted ownership of the currently closed Horton Community Hospital.
That comes as a bankruptcy court judge in North Carolina approved the purchase Thursday.
The Atchison Hospital Association was the top bidder of $270,000 during a December 19, 2019 auction in Charlotte, North Carolina.
According to a release issued by Atchison Hospital, the sale will not be final until the closing process is complete. However, plans are moving forward to "restore local health care to Horton area residents."
The Horton Hospital closed its doors in March of last year, and was among seven hospital properties, formerly owned by EmpowerHMS, placed up for auction. The auction was held as part of a bankruptcy action taken by CAH Acquisition Company.
The Kansas Attorney General's Office confirmed in March of last year it was conducting an investigation into the hospitals once overseen by EmpowerHMS.
According to the release, Atchison Hospital's strategy for delivering quality health care in the Horton area is to restore primary care services in the clinic, with an opening date to be announced in the near future. Pharmacy services will continue to be offered, and radiology, lab, and specialty clinic services will also be available soon on an outpatient basis.
The release notes that further details regarding the organizational structure and health care offerings in Horton will be provided by Atchison Hospital over the coming months, and employment applications are now being accepted for the Horton location.