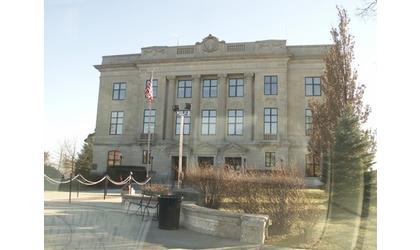 Brown County Courthouse
(KNZA)--The Brown County Commission has a new chairman.
During their annual organizational meeting Monday, the Commission approved the appointment of Dwight Kruse as chairman for 2020. Kruse replaces Keith Olsen, who had served as chairman the past two years.
In other business, bids were opened for a streambank stablization project on 290th Road along the Laus Creek Tributary.
The Commission accepted the low bid submitted by Siebenmorgen Excavating, of rural Robinson, in the amount of $82,335. It was among two bids received.
Funding through the Natural Resources Conservation Services Emergency Watershed Protection Program will pay for 75 percent of the construction cost. The county will provide a 25 percent match in the form of in-kind services.
The project is scheduled to start January 27 and is to be completed in 30 days.
Following a discussion with the county's road foremen, the Commission approved an increase in pay for summer help. Returning summer help will be paid $14 an hour, summer help with a CDL $15 an hour and new hire seasonal employees $13.50 an hour.
Following an executive session, the Commission accepted, with regret, the resignation of head courthouse janitor Manuel " Manny" Martinez effective January 24.