Impaired driving dangers highlighted in Snowflake Showdown
12/13/2019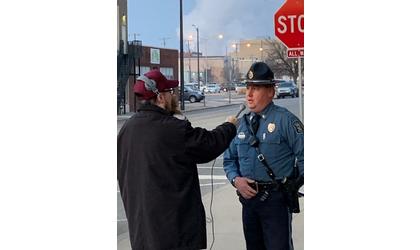 KAIR 93.7 FM News Director Brian Hagen interviews KS Highway Patrol Trooper Don Hughes during the ALPS Snowflake Showdown on Friday morning, December 13, 2019. (Photo credit: Tom Kautz)
(KAIR)--Don't drink and drive during the holiday season.
That message was on display as Atchison County Sheriff Jack Laurie, local Atchison mechanic Anthony Ross, and Kansas Highway Patrol Trooper Don Hughes joined Hot Country 93.7 FM Friday morning for the ALPS Snowflake Showdown.
Laurie and Ross wore impairment goggles, courtesy of Laurie's office, which emulate the effects of intoxicated driving. While wearing them, they played a game similar to cornhole, unsuccessfully attempting to toss a can of cranberry sauce, a squeaky dog toy, and a can of Treet meat product, into the holes of the playing board.
Once both players failed in their three attempts to score, the goggles were removed and Laurie went on for the sudden death win.
Laurie's victory earned one lucky caller to Hot Country 93.7 FM's Morning Show to win a Christmas ham, courtesy of ALPS.
The radio station plans to make the Snowflake Showdown an annual event for the holidays.
© Many Signals Communications
You will need to be logged in to leave a comment.
Please Login The posting of advertisements, profanity, or personal attacks is prohibited.
Click here to review our Terms of Use.