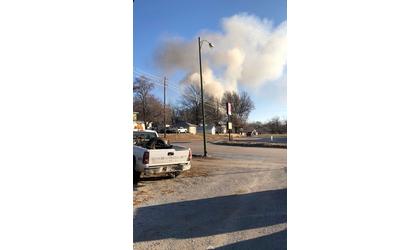 (KLZA)-- A clothes dryer has been ruled the cause of a house fire in Falls City Wednesday morning.
Members of the Falls City Volunteer Fire Department and the Falls City Rural Fire Department responded to the Michelle Bice house at 1108 Lane Street shortly after 9:00.
Bice and another person living at the house were inside the home when the fire started. They escaped with no injuries. There were also six dogs living in the house, with three of them perishing in the fire.
Falls City Volunteer Fire Department Information Officer Jon McQueen said the house suffered major damage and is likely a total loss.
McQueen said the house was fully engulfed in flames when firefighters arrived on the scene. He noted that due to the construction of the house it was difficult to reach the upper level of the home where the fire was burning.
Firefighters were on the scene until about 2:45 in the afternoon.
Traffic on Highway 73 was blocked off. McQueen said fire hoses were stretched across the highway to a high output fire hydrant.