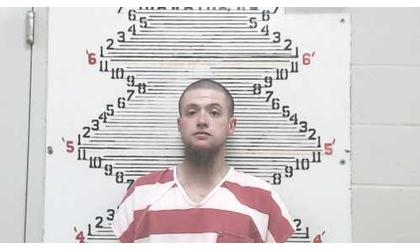 Cory Kuhlman ( Credit: Brown Co Sheriff's Office)
(KNZA)--A Westmoreland man is jailed in Brown County following a pursuit Monday evening.
Brown County Sheriff John Merchant, in a news release, said a sheriff's deputy was on routine patrol around 6:00 in the southern part of the county when he noticed a vehicle go by him without tail lights illuminated.
Merchant said when the deputy attempted to stop the vehicle, a short 4 to 5 mile chase ensued, ending up in Atchison County where the vehicle broke down.
Merchant said 25-year-old Cory Kuhlman was arrested without incident on charges of flee and attempt to elude, possession of marijuana, possession of drug paraphernalia, driving while license cancelled, suspended or revoked and defective tail lamp.
Kuhlman was booked into the Brown County Jail.