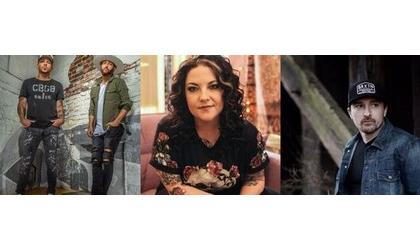 LOCASH, Ashley McBryde, and Erik Dylan will all perform July 17, 2020 at Atchison's LakeFest Country Music Concert at Warnock Lake. (Submitted photos)
(KAIR)--Although the calendar says December, thoughts of summer are evoked as the line-up for Atchison's 2020 LakeFest country music concert is announced. Named as headliner for the July 17 concert at Atchison's Warnock Lake is country music duo LOCASH.
According to a press release issued Wednesday by LakeFest Coordinator Jacque Pregont, LOCASH, creates a sound that fuses modern country music with classic heartland rock and an edgy vocal blend.
Prior to LOCASH hitting the stage, newly crowned CMA New Artist of the Year Ashley McBryde will perform.
Named to open LakeFest 2020 is Atchison County native Erik Dylan. Dylan, a songwriter whose songs have been recorded by a who's who of country music stars, has served as the LakeFest opener in the past. According to the release, Dylan is a fifth generation Kansan who has shared stages with some of the biggest names in music, including Lynyrd Skynyrd.
LakeFest annually serves as the opening highlight of Atchison's Amelia Earhart Festival, held each July to honor Atchison's famous one-time resident. The famed aviator was born in Atchison where she lived for a portion of her younger years.
The festival, planned for July 17 and 18, will mark its 24th year.
Gift certificates for the concert are available for purchase at the Atchison Area Chamber of Commerce, located at 200 South 10th Street.
Beginning May 1, the $25 certificates can be exchanged for tickets to the concert. Advanced tickets will begin to be sold on that date at the same price, but will increase to $35 the day of the concert.